World Teachers' Day is a day dedicated to recognising and appreciating the invaluable contributions of teachers worldwide. It is a day when educators and those who work with children are celebrated for their dedication to nurturing young minds and shaping the future.
Celebrate this special day with us by trying our Childcare eLearning courses for FREE!
A demo of our courses will show you our range of fantastic scenario-led and video-animated courses that bring essential topics of working with children to life. Whether you work as a preschool teacher, a childminder, or a nursery teacher, our courses offer you CPD-Accredited training the aligns to the Early Years Foundation Stage (EYFS) Framework.
Try a Free Demo of our Childcare Courses
The Significance of World Teachers' Day
World Teachers' Day, established by UNESCO in 1994, is celebrated annually on October 5th. It provides an opportunity to reflect on the crucial role teachers play in society. Teachers are not just educators; they are mentors, role models, and often, the first point of contact outside the family for young children. Our Childcare courses will guide you through the importance of the role of a 'Key Person' and how best to provide person-centred care to the young people you work with and their families.
Teachers face numerous challenges, from adapting to changing educational landscapes to addressing the diverse needs of their students. World Teachers' Day acknowledges their dedication, hard work, and the profound impact they have on generations to come.
"The teachers we need for the education we want: The global imperative to reverse the teacher shortage".
This year, the theme of World Teachers' Day shines a light on the ever-reducing number of teachers, exacerbated by their ever-declining working conditions and status.
In 2023 Unesco are aiming to put the importance of stopping the decline in the number of teachers and then starting to increase that number at the top of the global agenda. Through various activities, they will advocate for a dignified and valued teaching profession, analyse their challenges, and showcase inspiring practices to attract, retain and motivate teachers and educators.
"We call upon countries to ensure that teaching is transformed everywhere into a more attractive and valorised profession where teachers are valued, trusted, and adequately supported to meet the needs of every learner. Bold actions must be taken, if we are to reverse the current decline and successfully increase teacher numbers."                                   
– Audrey Azoulay, Director-General of UNESCO
Our Commitment to Early Childhood Education
Early childhood education is a critical phase in a child's development. It lays the foundation for future learning, social interactions, and cognitive growth. Therefore, it is essential to equip early years educators with the necessary tools and knowledge to provide high-quality care and education.
At CareTutor, we understand the importance of early childhood education and the role of early years educators. That's why we have developed a series of childcare eLearning courses tailored to the needs of those working in early years settings.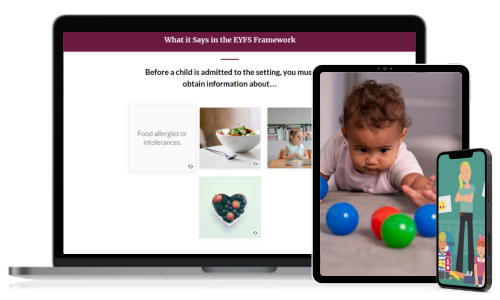 Our Childcare eLearning courses
Our childcare eLearning courses are designed to enhance the skills and knowledge of early years educators, meeting the requirements of the EYFS 2023, Young People's Workforce and Birth to 5 Matters.
The EYFS statutory framework will cover requirements by the following inspectors:
Ofsted (England)
Care Inspectorate Wales (Wales)
Education Scotland (Scotland)
Early Years Teams (Northern Ireland)
Courses include:
This course the specific foods and drinks that should be avoided in order to promote the health and well-being of children in their care, in addition to delving into the crucial role of hygiene practices in preventing food-related illnesses and maintaining a safe environment.
Health and Safety in Childcare Settings
This course will teach you to look for the hazards that may be present in the childcare setting and will explain your central role and responsibilities in promoting health and safety.
Maintaining the Safety and Security of Children
This course help you understand how to supervise children effectively, identify potential dangers in the childcare environment and increase your awareness of safety.
Moving and Handling in Early Years Settings
This course will look at how the body works when moving and handling and the legal background. It will also examine the importance of risk assessments and will ensure you know how to lift and lower safely and without injury.
Online Safety in Early Years Settings
This course will help you identify the areas in which children can experience online risk, understand that using social media can have risks for early years practitioners and respond correctly if you are concerned about a child online.
Promoting the Health and Hygiene of Children
This course looks at the health and hygiene needs of children and considers the vital part you play to support these in Early Years settings.
Safeguarding Children in Early Years Settings
This course explains the key principles of Safeguarding Children, the signs of abuse and neglect to look out for, and the action to take if you think a child is being abused or neglected.
This course provides knowledge and awareness around understanding child development from Birth to 1.
Child Development: 1 to 2 Years
This course provides knowledge and awareness around understanding child development from 1-2.
Further child development courses are to be released in the next few weeks including Child Development 2 to 3 years, 3 to 4 years and 4-5 years followed by a series of behavioural courses.
By enrolling in our eLearning courses, you'll receive:
✅ Interactive video-based modules with real-life animated scenarios.
✅ Industry-leading guidance with 20+ years of expertise in the sector.
✅ Downloadable resources for practical implementation.
✅ Flexible learning at your own pace.
✅ An assessment quiz
✅ A CPD-Accredited Certificate on completion of the course
Try a Free Demo of our Childcare Courses
World Teachers' Day is an incredible opportunity to elevate your staff's careers and make a lasting impact on the lives of young people. 
Get In Touch
CareTutor has a range of video-based Childcare courses on its eLearning platform, with easy-to-use compliance and management tools.
Talk to our team on: 0345 644 2866
Email us on: info@caretutor.org