We are thrilled to announce the launch of the front-end redesign of the CareTutor website! This transformation brings forth an enhanced user interface, improved functionality, and a seamless browsing experience for anyone seeking quality online social care eLearning. In this blog, we will dive into the exciting changes that the front-end redesign of the Care Tutor website brings.
User Friendly
We have developed an intuitive and user-friendly website. The revamped design combines aesthetics and functionality, employing contemporary design principles to create an engaging and visually appealing interface. With clean lines, intuitive layouts, and carefully selected colour schemes.
Each page is designed with accessibility principles in mind, following the Web Content Accessibility Guidelines (WCAG) AA rating for colour contrast. This ensures that learners with visual impairments or colour vision deficiencies can easily read and navigate the site.
The new front-end design of the Care Tutor website provides a visually cohesive and pleasing experience for users.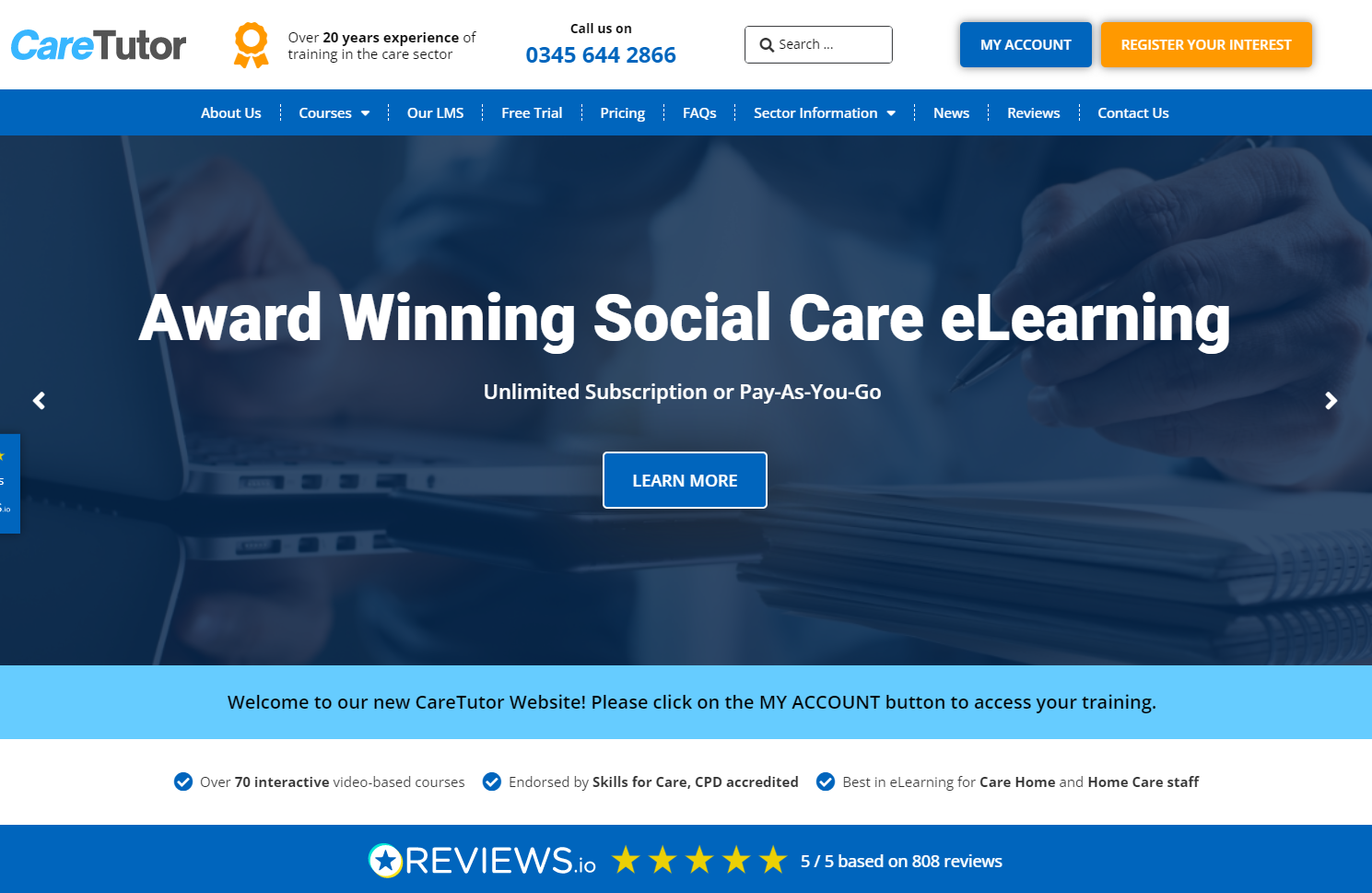 Essential Information
We have added plenty of useful information and guides, which you can access through your navigation bar. A few examples include:
The Care Certificate Page – Whether you're new to the care sector, or a seasoned professional, our guide will walk you through the tools you need to assess and track this vital qualification.
Courses we Offer – Browse our range of over 70+ courses, each page comes with a course preview, so you can get a taste of why we stand out from our competition.
Frequently Asked Questions – Here you'll be able to find the answer to our most common questions, and some extra tips and tricks to help you and your staff around the site.
Our LMS – Learn about the compliance management tools you'll be able to access. Our tools streamline the entire process, freeing your time up to focus on the things that really matter.
News – Our Company News, Product News, and Industry News sections provide updates on important company announcements, new features, educational advancements, and industry trends.
Pricing – Check out the packages we offer. Using our pricing sliders, you'll see our high-quality, great value eLearning can really make a difference to your budgets.
Enhanced User Interface
The redesigned front-end interface of the CareTutor website puts user experience at the forefront. Carefully crafted layouts and intuitive navigation enable users to seamlessly explore the website's features and find the information they need. The improved user interface eliminates clutter, simplifies interactions, and ensures that key actions are easily accessible.
A learner can now access their training through the "My Account" button at any time:

If you're trying to find something in a hurry, you can now use our new search application to browse through all our website content. This way, you can find what you're looking for quickly and effortlessly.

Responsive to All Devices
Accessibility and responsiveness are essential in today's digital landscape. The front-end redesign of the CareTutor website prioritizes that, ensuring that all users, regardless of their device or ability, can access and utilize the website seamlessly. Our site will adapt to different screen sizes and resolutions, providing a consistent experience across desktops, laptops, tablets, and mobile devices.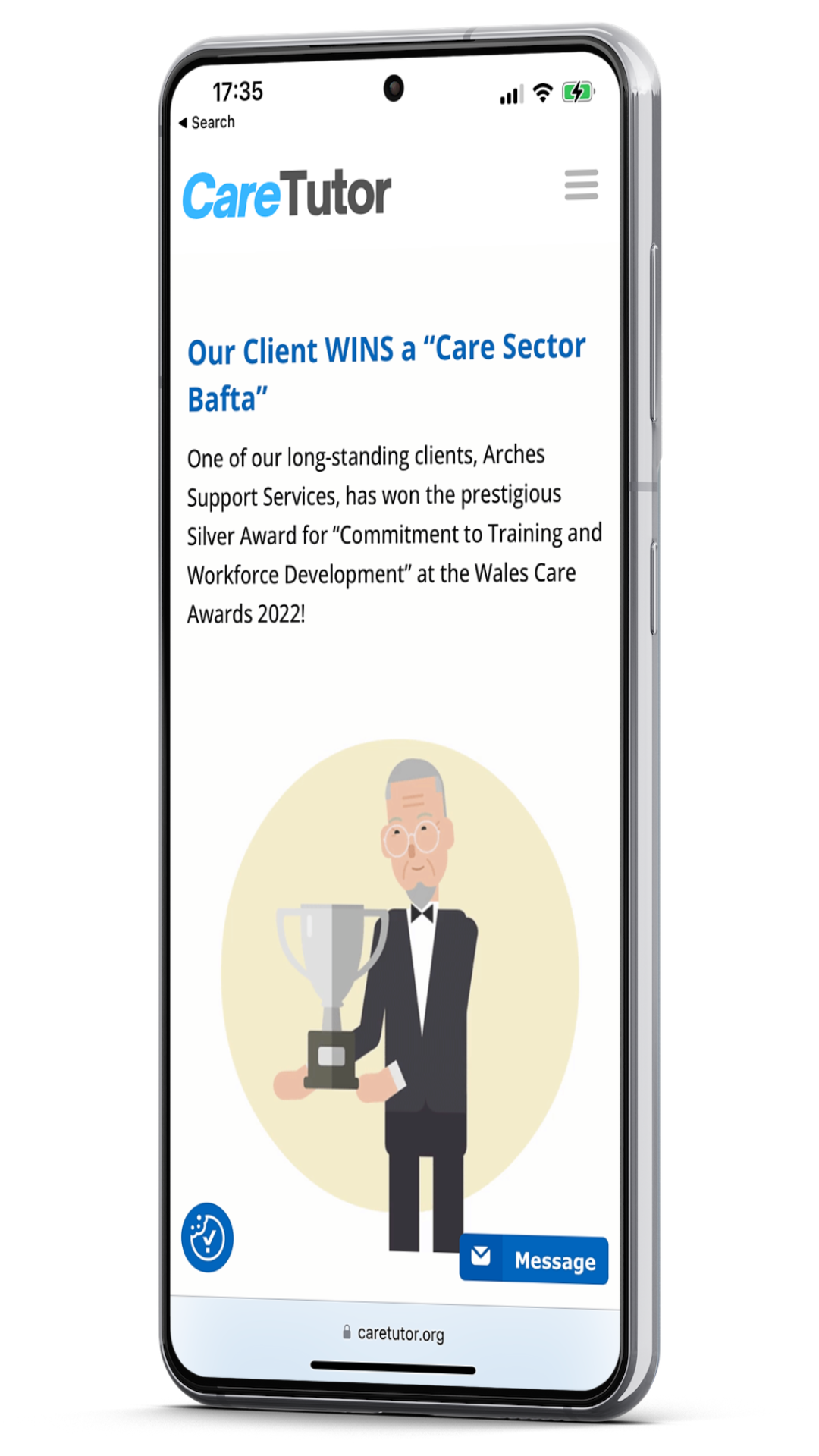 Optimized for Speed
At CareTutor, we understand the importance of speed in today's online world. The new front-end redesign of the CareTutor website has been optimized for speed, ensuring that pages load quickly, and users can access information without delay. This optimization is achieved through a combination of techniques, including caching, image optimization, and code optimization, among others.
Comprehensive Support
The redesigned CareTutor website includes a comprehensive support system to address any concerns. Users can easily access FAQs, browse through informative blog posts, and reach out to a dedicated customer support team via our live chat for personalized assistance.
The front-end redesign of the CareTutor website is a significant milestone in our ongoing commitment to providing the best possible online learning experience for our users. With a modern and clean interface, enhanced user experience, responsive design, optimized speed, and comprehensive support, we believe that the new design will greatly enhance the user experience.
Get In Touch
CareTutor has a range of over 70+ video-based social care courses on it's eLearning platform including the full Care Certificate, with easy to use compliance and management tools.
Talk to our team on 0345 644 2866
Email us on: info@caretutor.org