We all have mental health, just like we all have physical health. Just as we take care of our bodies, it's essential to prioritize our mental well-being. However, mental health issues affect a significant portion of the population, with approximately 1 in 4 people experiencing a mental health problem each year. To combat the stigma and misconceptions surrounding mental health, it's crucial to spread awareness and understanding.
We are excited to announce our new Mental Health Awareness eLearning course! This comprehensive course aims to equip caregivers with the knowledge and skills needed to support individuals with mental health challenges effectively. This is perfect for those who have completed our Mental Health, Dementia and Learning Disabilities course and are looking for a closer look into this topic.
This course covers the mental health elements of Standard 9 of the Care Certificate and inspectors will be checking to see if staff have been trained in this vital learning area.
What's Covered?
Our eLearning course delves into essential topics related to mental health, including:
Identifying Mental Health Challenges: Learn to recognize signs and symptoms of common mental health conditions like depression, anxiety disorders, OCD, PTSD, schizophrenia, and bipolar disorder.
Support Strategies: Discover effective support techniques, including active listening, reflective listening, and summarizing, to create a safe and empathetic environment for individuals seeking help.
Self-Harm and Suicidal Thoughts: Understand the complex nature of self-harm and suicidal thoughts, and learn how to offer compassionate and non-judgmental support to those experiencing distress.
Promoting Positive Mental Health: Explore self-help strategies such as exercise, communication, and joining support groups that can promote positive mental health and resilience.
Talking Therapies and Medication: Gain insights into different talking therapies like Cognitive-Behavioral Therapy (CBT), Person-Centered Therapy, and Solution-Focused Therapy, as well as commonly prescribed medications for mental health conditions.
eLearning at Its Finest
This new course contains a host of exciting interactivities and engaging animations to keep learner's attention. These include "Point and Click" and "Drag and Drop" exercises in an easy-to-follow format designed to get you thinking.
80% of people in the UK are visual learners and studies confirm that visuals are processed 60,000 times faster in the brain than text.
All our videos are narrated clearly and contain subtitles, can be paused at any time and rewatched by staff.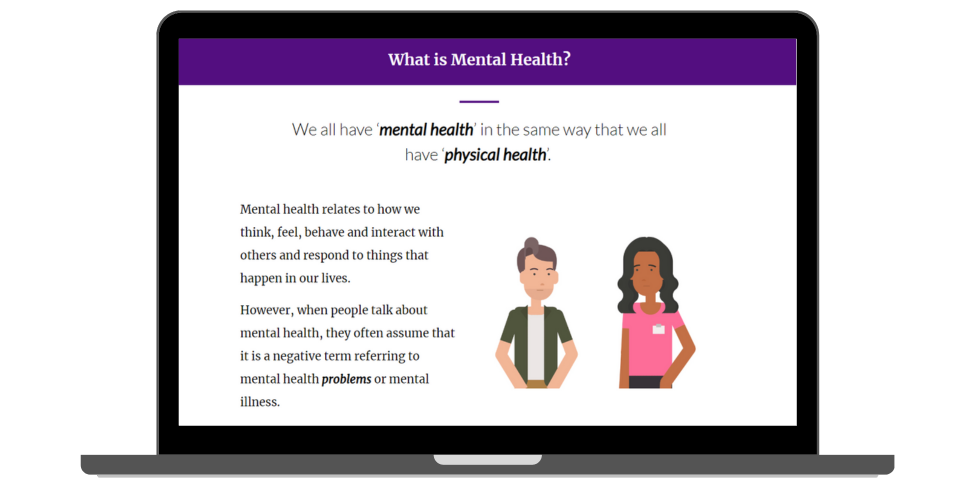 Preview the first few lessons now
Throughout the course, there will be learning sections, as well as various interactive exercises and assessments to test your knowledge.
Promoting mental health awareness in care settings is crucial for delivering compassionate and high-quality care. By understanding mental health better and employing empathetic and effective support strategies, caregivers can make a significant positive impact on the lives of those they care for.
If you are an organisation in the Health Care, Care Home or Domiciliary care sector, register your interest to take our newly launched Mental Health Awareness course and join us in creating a more mentally healthy and compassionate care community.
Get In Touch
CareTutor has a range of over 70+ video-based social care courses on its eLearning platform including Mental Health Awareness, with easy-to-use compliance and management tools.
Talk to our team on: 0345 644 2866
Email us on: info@caretutor.org